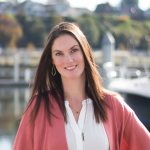 Karmin Pincus
Broker, Owner | Veteran & Military Wife
About Karmin
My focus has always been on serving our current and former military members and their families. I served from 2006-2012 and my husband is still serving our country today. PCS Everett specializes in VA residential purchases and sales, although we certainly have the skillset to help all local buyers and sellers. VA loans have different requirements than other loan types and need someone with expertise in this area to ensure your experience is positive and your purchase successful!
We can assist with Permanent Change of Station (PCS) orders to and from Everett, Whidbey, and Bremerton. We are used to helping buyers purchase homes sight-unseen and our process allows for touring properties and providing out-of-area buyers full video of each home they are interested in. This way, they can see for themselves how the home lives and feels to make sure it will work for their needs. We also accommodate short-notice home tours for those who are flying in to find a home quickly.
When it comes to relocation, we can provide resources for local medical, emergency, and educational resources for the areas chosen. We'll help you narrow down the homes to only those that will best fit your requirements to help save you time while you are here.
When it's time to PCS to a new duty station, we will help you get your home in peak condition to sell; staging, cleaning, organization, contractor referrals, pre-inspection resources, etc. We are here to make your transition as smooth as it can be. We are a military family as well, so we understand the stress and hassle, and the hurry up and wait! Should you require it, we also offer Professional Full Service Property Management for local home owners who wish to rent out their homes. We will handle the advertising, background checks, leasing process, payment collection, property inspections - EVERYTHING!
Designations